Pantone Picks an Uplifting Combo for Its Color of the Year 2021
For only the second time since its first Color of the Year announcement 20 years ago, the color standards management company Pantone Color Institute has unveiled not one but two colors. Illuminating, a bright sunshine yellow, joins forces with neutral, grounding Ultimate Gray as Pantone's dual selections for 2021 Color of the Year.
Leatrice Eiseman, the institute's executive director, says Pantone selected these colors to "highlight how different elements come together to express a message of strength and hopefulness that is both enduring and uplifting, conveying the idea that it's not about one color or one person, it's about more than one."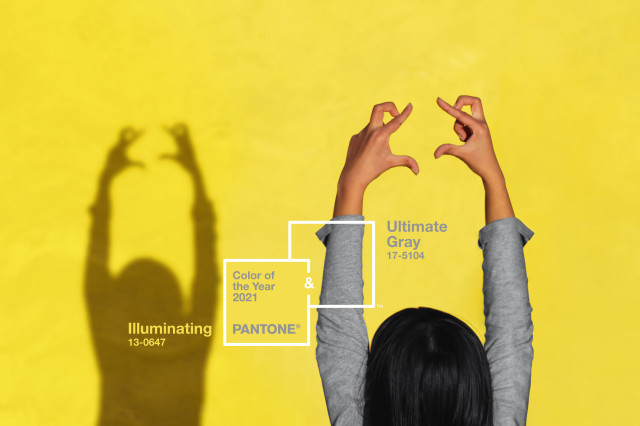 Eiseman adds that the combo is "practical and rock solid but at the same time warming and optimistic — this is a color combination that gives us resilience and hope. We need to feel encouraged and uplifted, this is essential to the human spirit." Not a small ask for a pair of colors.
Pantone provides these color trend forecasts for the various design industries, including interior design, fashion, beauty, packaging and multimedia graphic, so you can expect to see more of these hues in the coming year.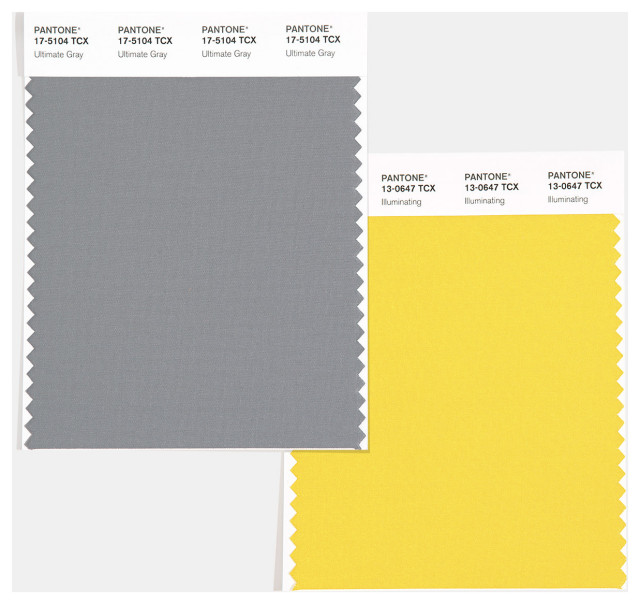 With regard to home decor, Pantone sees these two colors being used primarily in textiles and decorative accessories. They also mention my first thought when I saw Illuminating — that it's the perfect front door color to pair with neutral Ultimate Gray exterior finishes.
Here are more ideas and examples of how to bring this striking pairing into — and onto — your home.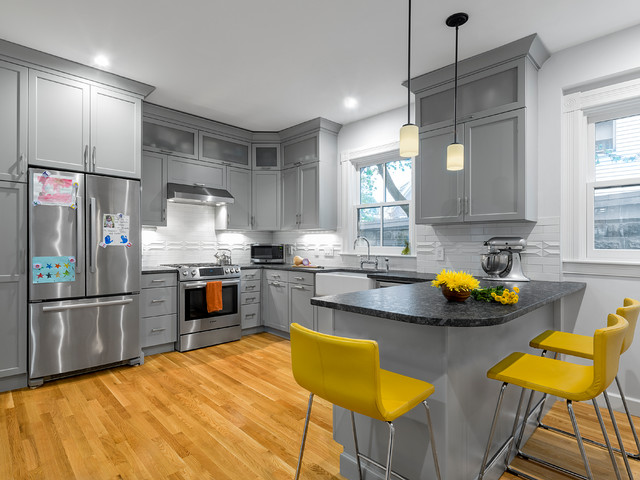 1. Furniture
It's important to mention that we are not suggesting you should redecorate your home every year in the latest trendy colors. Rather, this is a good time to source items in these colors if you happen to be a big fan of them. Manufacturers of home decor items such as furniture will no doubt be introducing items in these colors. It will therefore be easier to find these hues in the coming year.
Furniture items such as counter stools and dining chairs are smart places to bring in a bold yellow hue. It's a relatively small spot of color and is easy to change out in the future.
Browse a curated collection of gray and yellow products from the Houzz Shop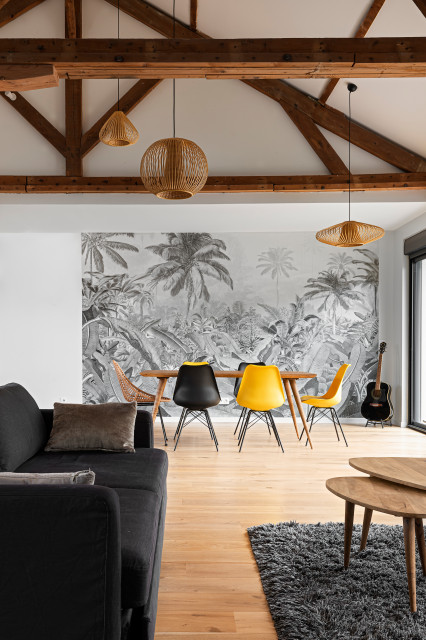 The dining space shown here, and the previous kitchen, include plenty of medium gray to serve as a neutral backdrop to the striking yellow.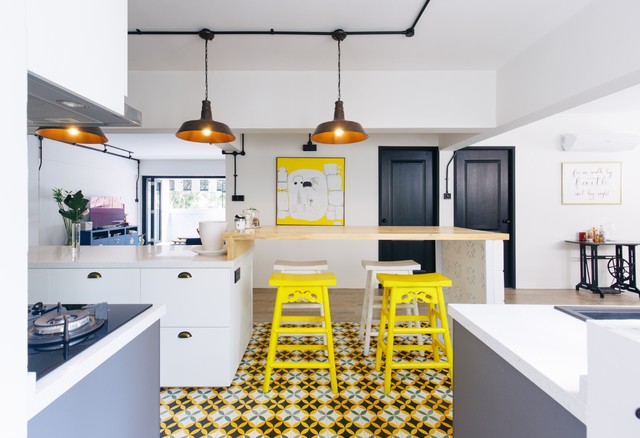 2. Flooring
If you are a big fan of bright yellow and want to make a statement with it in a more permanent way, check out your options in flooring. These beautiful, bold tiles are the focal point in this otherwise neutral kitchen palette of gray, black and white.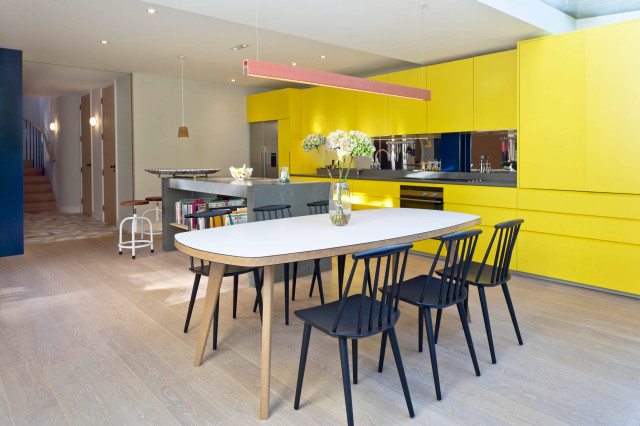 3. Kitchen Cabinets
A yellow-and-gray kitchen can catch the eye and brim with energy and personality. The color combination can work well in modern spaces, as shown here, and in more traditional spaces (see below).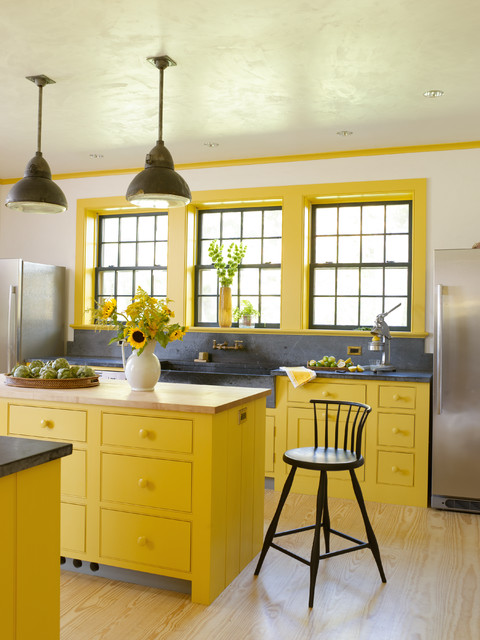 If you go all in with a vibrant yellow for your kitchen, be sure to bring in plenty of soft neutrals. Mid-gray hues offer a nice cool contrast, and crisp whites keep it bright.
This palette also plays nicely with most wood tones. A light wood floor keeps both of these spaces light and lively as well as warm and welcoming.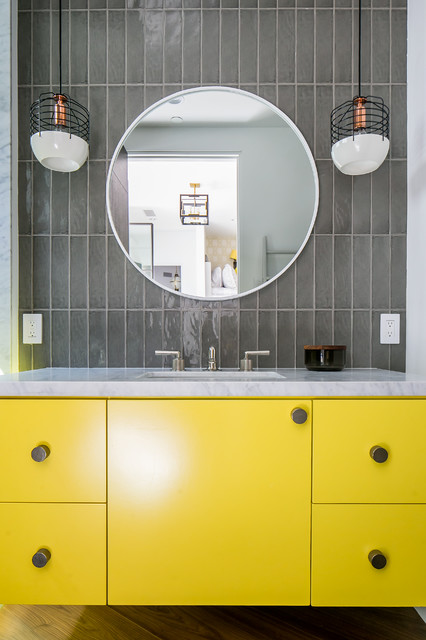 4. Bathroom Cabinets
Of course your kitchen shouldn't get all the fun color. In fact, I would argue that bathrooms are among the best spaces to inject lively color because they're not spaces you are spending hours upon hours in, unlike your bedroom, kitchen or living room.
This yellow hue might not be the best choice for your bedroom if you are seeking a soothing night's sleep, but in the bathroom it is a fantastic punch of color to help you wake up in the morning.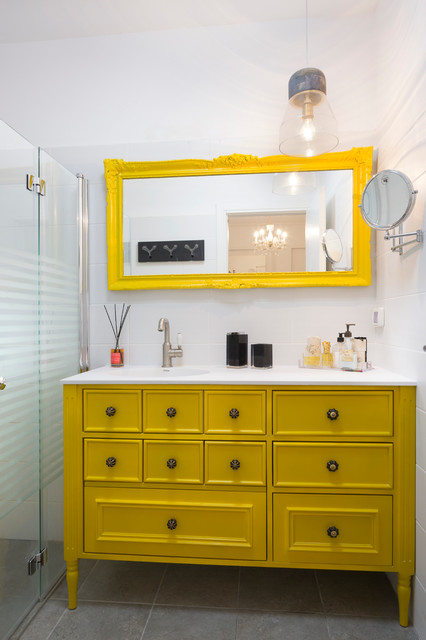 As with the kitchen examples, adding a healthy dose of a hue similar to Ultimate Gray in the form of wall or floor tiles helps ground the bold yellow hue. Tile is also more difficult and expensive to change out, so using a neutral for those items is a smart move.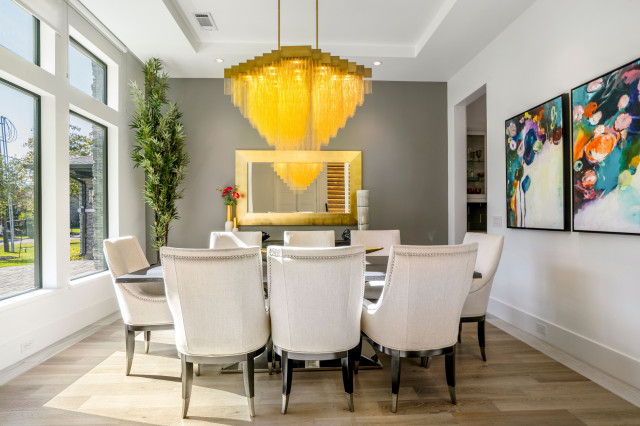 5. Lighting
Light up a room with this sunny hue via a sparkling yellow-hued light fixture. The gray wall serves as the perfect backdrop to this beautiful pendant.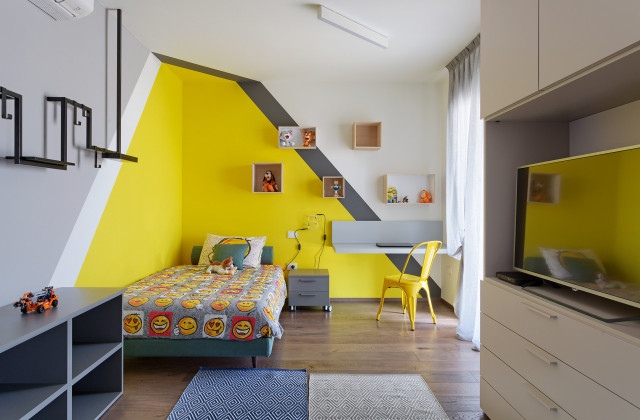 6. Accent Area
One of the easiest, most budget-friendly and impactful ways to bring color into a room is through a painted accent area.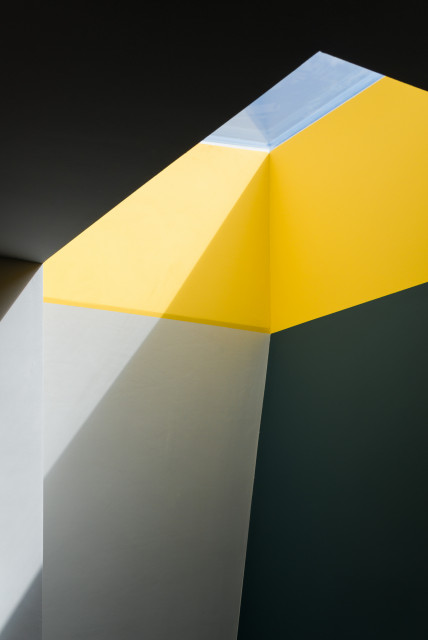 Because a bright yellow hue can be overwhelming in large doses, just a small splash of it, combined with gray, goes a long way and makes a strong visual statement.
This skylight looks like a piece of abstract art with its yellow and gray color-block paint job. I imagine that the splash of yellow also helps the sun shine into this London space even on an overcast day.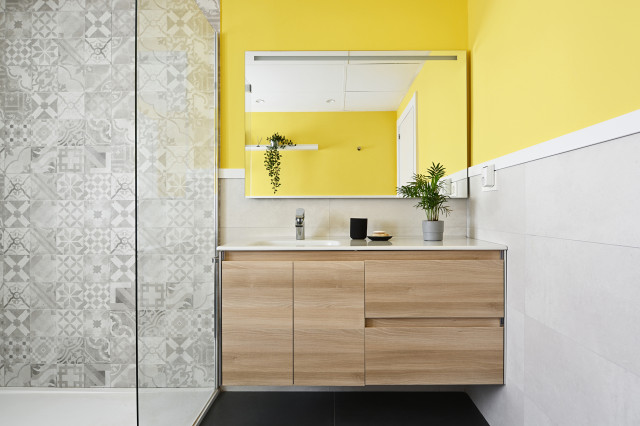 Speaking of bringing in some sunshine, if you have a light-deprived room in your house, think about adding a small bit of summery yellow to the upper wall. With a grounding dark gray on the floor and soft textured gray on the shower wall, the splash of sunny yellow on the upper wall gives this bathroom a light, light-filled and spacious vibe.
Because of its eye-catching qualities, yellow can help highlight spaces and items that are worth showing off. This niche of a built-in bookcase is a really fun spot to use an accent color. Gray works as a contrasting base color that allows the yellow to take center stage.
Ippolito Fleitz Group – Identity Architects
7. All of the Wall
Here's an example for the lovers of bold color. Rather than a small accent, go big and paint an entire wall in the hue. This hallway demonstrates how well these two colors work together. And, similar to the bathroom example, hallways are an excellent place to play with bold color since they are pass-through areas of the home and not spaces we hang out in for long stretches of time.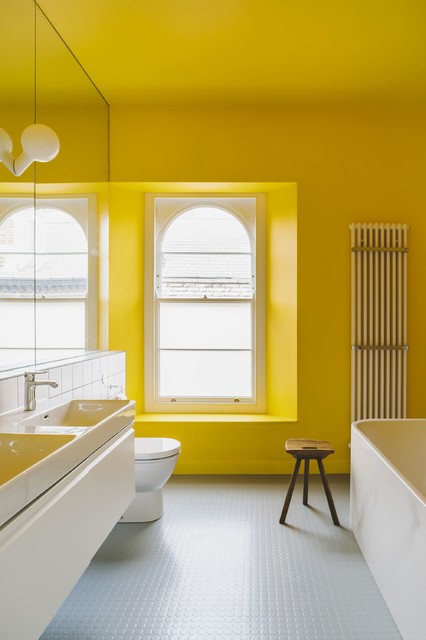 Don't neglect your ceiling when adding color. This is a lot of yellow, but it works here because the space is so clean and minimal. It can handle the visual punch of so much strong color because there's no clutter competing for attention.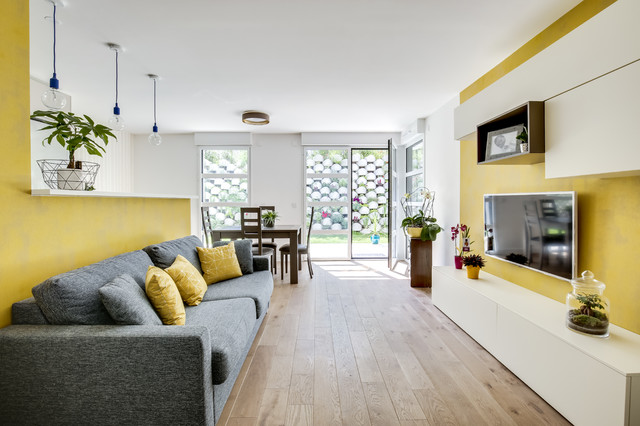 8. Textiles
Pantone recommends bringing their Colors of the Year into the home via textiles. This is a great option for those who like to play with color trends but don't want a huge commitment or hit to the pocketbook. With a gray or similarly neutral hue for your sofa, you can go a little wild with a zesty yellow throw or decorative pillows.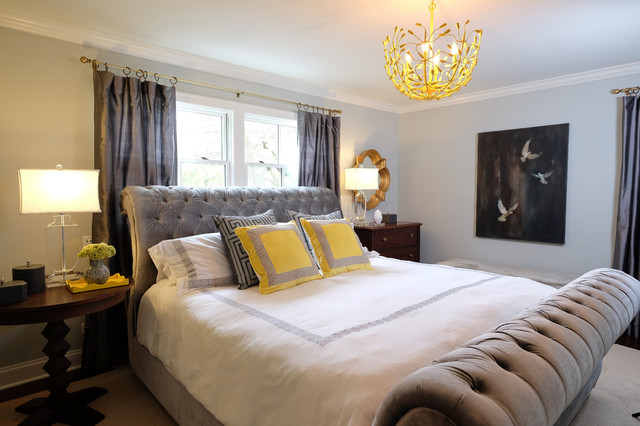 The Kitchen Studio of Glen Ellyn
Now this is how I would recommend bringing a bold yellow into your bedroom: through small doses such as pillows. You could also add other bedding elements or an area rug in the snappy hue. As long as soothing gray remains a prominent color in the room, it'll stay a serene space for sleep.
Another option for bringing in one or both Colors of the Year is through window treatments. Curtains allow you to show a little hint of color (when they are fully opened) or a large expanse of it (when fully closed). Window treatments can get expensive, but they are fairly easy to change out should you feel an itch to put up a new color down the road.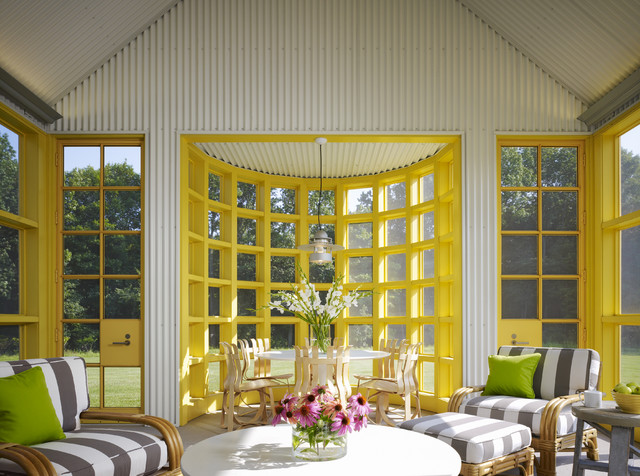 9. Interior Trim
Speaking of windows, check out these beauties in this captivating sunroom. I love that they are painted bold yellow; it really makes them stand out, as they should. The gray accents push this hybrid traditional-contemporary space closer to the modern side.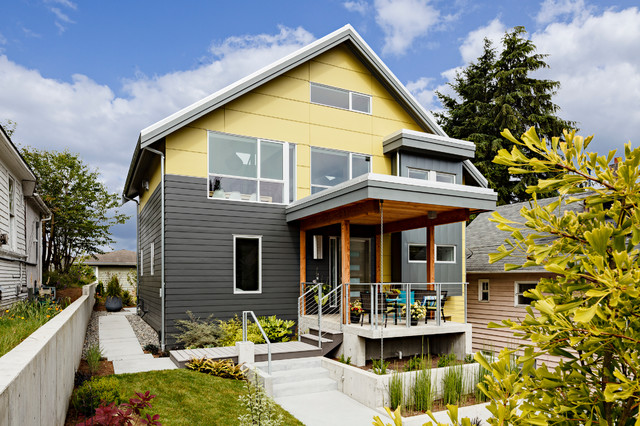 10. Exterior Accent
Show the world your love of this color combo by taking it outside.
Use the bolder yellow to highlight interesting shapes or architectural elements on your home. Then look to gray as a grounding hue. Using it at ground level offers a sturdy and solid base to the more effervescent yellow.
11. Front Door
My favorite way to use a bold yellow with a medium gray is on the front door and exterior siding, respectively.
Neutral gray-hued siding materials will age well and allow you to bring in more exciting and interesting colors via your front door, landscaping or outdoor furnishings.
A happy hue such as yellow on the front door is warm and welcoming. Practically speaking, it's a great spot to showcase a striking color because it's typically applied with paint, making it relatively easy and affordable to change in the future. The gray siding allows you the flexibility of going with any other entry door color your heart desires in the future.